Casa Laguerta is Located at Brgy. Laguerta, Calamba, Laguna
Casa Laguerta is a real estate development in Brgy. Laguerta in Calamba, Laguna. This socialized housing project is therefore the ideal place to live in for those who live or study near Calamba, or some other parts of Laguna. The location is strategically chosen by the developers to ensure that you have everything you could ever need in an ideal home. If you want to enjoy pollution-free environment, Calamba offers you that. It is relatively quiet so your family can live in peace and harmony with nature.
At the same time, Calamba is one of the fastest growing cities in Laguna. Therefore, there are sufficient opportunities for work and leisure without the need to travel a few hours to get to Metro Manila. Everything you could ever need is within easy access right within Calamba. There are 54 barangays that make up Calamba. Barangay Laguerta, where Casa Laguerta is located in, is classified as a rural type of barangay.
The city of Calamba serves as the regional center of the Calabarzon region in Luzon. The distance from Manila to Calamba is less than one and a half hour. Hence, it is fairly accessible if you need to go to Metro Manila for work and other reasons. As of 2015, the population of Calamba is at 454,486 people. It is therefore the most populated government unit in Laguna. The population is expected to grow in the coming years as many new developments, including housing developments such as Casa Laguerta, expected to rise in the city. Within the Calabarzon region, the city of Calamba is ranked number 18 in terms of overall competitiveness. In fact, it has earned the recognition as the richest city within the Calabarzon region based on the 2014 COA Annual Audit Report.
If you are looking for opportunities and activities outside of Casa Laguerta, there are plenty of options available. For instance, there are several shopping malls and centers within Calamba, such as the SM City Calamba, Walter Mart, Checkpoint Mall, and Puregold. If you feel the desire to go out and eat with your family, you have many choices available within Calamba such as Tuding's Original Porkchop Haus, Ippon Yari, Laong Laan Restaurant, and Goguma Authentic Korean Food and Grill.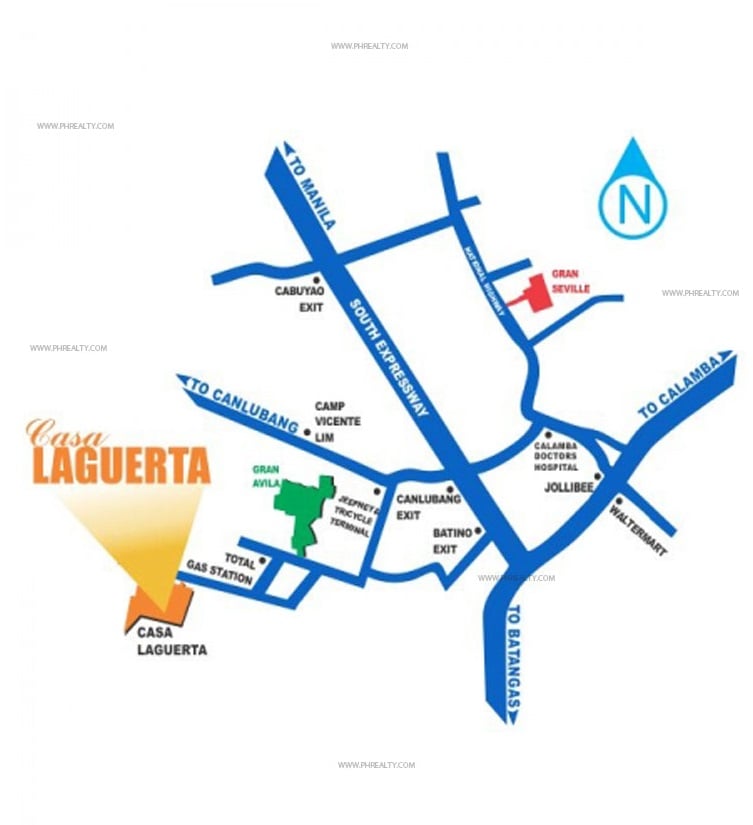 For your other basic needs, there are also several hospitals within Calamba that can attend to your family's health care and medical needs. Among your options are Calamba Medical Center and Calamba Doctors Hospital. There are also several schools to choose from for those families moving into Casa Laguerta. Your choices include Integrated Montessori Center, Lyceum of the Philippines University, Calamba Bayside National High School, and Saint Francis of Assissi College – Calamba.
To travel to Calamba, there are several transportation options available. The most convenient option is via bus, which you can take the EDSA Cubao to Calamba route that travels from 3 AM to 9:30 PM. There is also another bus route available, which is Taft LRT to Calamba. There are different bus schedules available within the time frame mentioned above.
The city of Calamba is historically popular as the hometown of the Philippine national hero, Jose Rizal.